Books
"Riktiga män äter sallad" 2012-03-08
The edition is released in Swedish, English and Danish.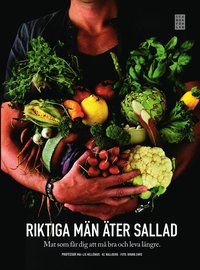 According to medical science, more vegetables on the plate can contribute to a longer life, increased muscle strength and decreased impotence problems. Hence the title "Real men eat salad". However, "salad" is so much more than tomatoes and cucumber. A salad would preferably be a mix of green vegetables, root vegetables, beans, nuts, wholegrain of cereal and olive oil to go with the dish of for example meat or fish. That will make you replete in an enjoyable and pleasant way, and not bloated.
"Wonderful Sweden; The glorious landscape and delicious cuisine" 2012-05-21
The edition is released in Swedish, English and German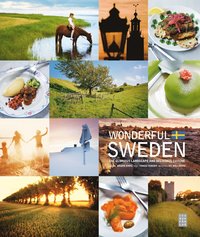 You are invited on a culinary trip through Sweden – described by beautiful landscapes, alluring interpretations of classic Swedish dishes and inspiring, informative texts. Culinary Sweden is portrayed by six swoops and a comprehensive list of courses. Experience the wilderness of Lappland in the north, the sunny summer warmth of Dalarna, the island Gotland´s magical scenery, the western sea at the coast of Halland and the fantastic atmosphere of Skåne in the south. Let the recipes treat you to cloudberry parfait, homemade crispbread, soup on strawberries and rhubarb, codfish with horse-radish and prawns, apple pie of the south, pea soup, meatballs, raw spiced salmon, classic Sunday roast, and last but not least, the very special "gubbröra".  Read and enjoy, reexperience food memories and capture the special taste of Sweden.
"My Culinary Kingdom"    2013-08-15
The edition is released in Swedish and English.
Nature is the regent in KC Wallberg´s culinary kingdom. From mountain to forest, from field to sea. KC Wallberg picks out what he needs as a chef from each special environment. What nature offers is gently taken care of. Traditions are preserved, while flavours are renewed and recipes created. KC Wallberg explores, with an open mindset, the possibilities that nature´s larder gives.
As a chef, KC Wallberg favours simplicity based on a solid ground, which makes him a good inspirer to both the amateur enthusiast and the trained professional. He represents a comprehensive view on cooking: "We have inherited knowledge of commodities, the seasonal variation and the pre-conditions of cultivation. If we properly consider that knowledge, our cooking can be made both versatile in style and regardful of environment and health."
"My Culinary Kingdom" is a personal cookbook that has evolved during almost ten years. The reader is invited to places much appreciated by the author, close to the wilderness, in several Swedish regions. The book comprises close to 70 recipes, many are favourites at the restaurant Gubbhyllan at Skansen, Stockholm.
KC Wallberg has, concurrent to writing, carried out his profession as chef in both Sweden and USA, acted as chef at international events, been the guest of television shows, tutor and lecturer, for example at Cordon Bleu in London on traditional Swedish food preparation. Since 2008, he is the manager and chef at Gubbhyllan, Skansen, Stockholm.
Fixa julen : proffsens bästa tips för en lyckad jul   2013-10-09
The edition is released in Swedish.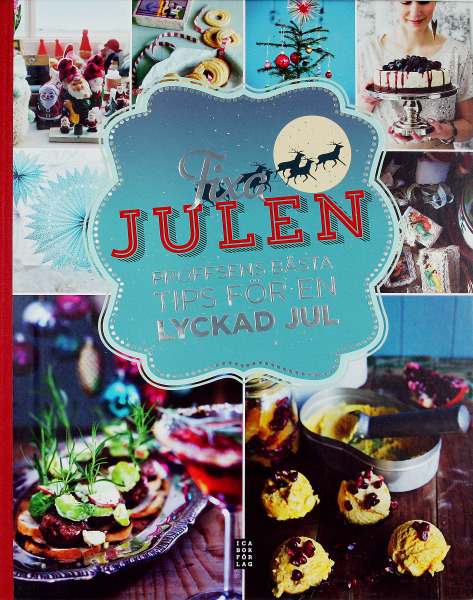 The Christmas feeling and how to fix it – from drinks and food to beautifully wrapped Christmas gifts and the cozy Christmas atmosphere. Who would be the ones to guide you? Well, a group of "Christmas professionals".
Be prepared with the best drinks already early December. Plan ahead for your Christmas dinner, for a truly tasteful menu. And when all the Christmas fuzz is over… Be ready for a wonderful New Year´s eve!
Contributing authors are all experts in their respective field, giving you their best advice.
The Christmas food and candy –  Liselotte Forslin, Tove Nilsson, Birgitta Rasmusson and KC Wallberg provide recipes for the classic Christmas table and also for "green" pastry and candy.
The wines and drinks – Bengt-Göran Kronstam gives his advice on beverage for Christmas and for New Year´s eve.
The beautiful Christmas gifts – Mai-Lis Hellénius shows her special ways to make very personal, beautifully wrapped gifts.
The holiday atmosphere – Catharina Lindeberg-Bernhardsson adds that little extra to the room and prepares it for festivities with nice table settings and flowers.
The cozy Christmas feeling – Jan Gradvall picks out Christmas music and movies, all the best ones for relaxing moments between holidays.
BRANDS
Mitt Matrike
We believe in nature. "Mitt Matrike" is sprung out of an attitude to food, in which additives have no place and produce and commodities come from suppliers that share our view on ethical farming and sustainable agriculture. It is nature – with its different geological pre-conditions and different climate zones, that sets the rules for what is growing and thriving. In "Mitt Matrike", nature has drawn the map. This philosophy pervades all brands and books.
Restauration Gubbhyllan at Skansen
KC Wallberg has operated the establishment Gubbhyllan at Skansen, Stockholm – a food café and restaurant – since 2008. Everything on the menu is homemade. Gubbhyllan comprises a bakery, fresh juice manufacturing, restaurant kitchen and production facilities. Commodities in the season are used and tasteful dishes, without unwanted additives, are presented. "Instead, we have faith in the right cooking techniques and methods of preparation. We respect and learn from history but add a modern twist." This is noticeable, in quality and in taste. A sustainable approach, promoting nutrition and pure, healthy food.
https://gubbhyllan.se
Levande Matkultur I Sverige
Since 2016, KC Wallberg also operates two century old vessels in Stockholm – M/S Prins Carl Philip (80 restaurant seats and a maximum of 298 passengers) and the steam ship S/S Drottningholm. Since January 2019, M/S Angantyr is also part of the fleet. The vessels mainly traffic the route from Central Stockholm to Drottningholm in Lake Mälaren, during the summer season. They also serve as rental ships for private arrangements, with a destination of choice.
The restaurants on board offer a menu with the same ambition as Gubbhyllan. The menu is a la carte, with a focus on game, wild fish and vegetarian dishes. Everything served is cooked in the restaurant on board, or in the kitchen at Gubbhyllan.
Food For Minds
In 2015, KC Wallberg started a project together with health coach Christopher Bergström, searching for practical solutions and tasteful recipes for clients. "Food for Minds" has the ambition to make it simple to live in a healthy way. From the recommendations of Christopher Bergstöm, KC Wallberg creates tasteful dishes, delivered to the client´s address. Food for Minds is an offer in the premium segment with individually composed programmed and first-class service.
https://www.foodforminds.se

A Piece of Soul Productions AB
The release of the book »Mitt Matrike« (2013) was the start of "A Piece of Soul Productions". The company´s orientation is information and tuition within the food sector. »Mitt Matrike« is published also in English, »My Culinary Kingdom«, and has been rewarded »Årets måltidslitteratur« by Måltidsakademien. Amongst the production is also series »Mat­nyttigt«, recipe folders in cooperation with the health and lifestyle clinic at Karolinska institutet. https://www.apieceofsoul.se


Traktör KC Wallberg
KC Wallberg is also active as lecturer and tutor. He has vast experience and a substantial academic background within gastronomy. KC Wallberg is also advisor at Stockholms Yrkeshögskola TEC. He has a long-time cooperation with Livsstilsmottagningen at Karolinska Institutet, where professor Mai-Lis Hellénius has named him »chef of the future«. KC Wallberg cooperates with health and food authorities in Sweden, regarding health and lifestyle. He is a recognized ambassador for the Scandinavian kitchen. KC Wallberg at LinkedIn
TM Kvalitetsviner – Biodynamisk vinimport
KC Wallberg acquired the wine importer TM Kvalitetsviner in 2016, having been one of the importer´s first customers. The company was founded in 2003 as Franska Kvalitetsviner (French Quality Wine). At the time being one of few importers focusing on certified organic and biodynamic wines. Today, TM Kvalitetsviner has a broader profile, still focusing on artisan wine and spirits, as well as alcohol free products, from France, Italy, Spain, Germany, Austria, USA, New Zeeland, Sweden and Denmark.
"We cooperate with producers working according to organic and/or biodynamic principles. A direction that gives us the possibility of offering a vast number of products, all manufactured with a minimum of negative footprint on nature. The complete process is based on this concern. To our producers, and to us, being certified is an important statement of a long-term investment in sustainability. Our artisan producer´s knowledge is the key, most of them are certified. However, some are still under conversion into organic or biodynamic agriculture and production."
https://www.kvalitetsviner.se